Overview
preciseValve provides a user the various solutions available with ratings based on a set of Key Performance Indicators. The tool captures application requirements / process parameters such as fluid type & fluid properties, flow rates, permissible leakage, pressure or temperature ratings, cavitation index, noise levels, flow characteristics, location of the valve in the overall process, extent of pressure reduction, valve closing / opening time, type of actuation, etc. It automates calculations for Required Cv, cavitation indices, noise level, flashing, velocity, pressure-temp rating, actuator thrust requirements, stroking time, fugitive emission levels, etc. These Key Performance Indicators are iterated against the available product range to facilitate the selection of Fit-for-Purpose product type / series, trim type, valve size, rated Cv, ANSI rating, leakage class, end connections material of construction, actuators, accessories etc. It also facilitates generation of reports / documents such as specification sheets, flow curves, GA drawings, schematic drawings, ITPs, tag wise pricing sheets, project quotations, etc.
Control Valve Selection
Warnings & recommendations for
Cavitation
Flashing
Excessive velocity
Choked flow at 100% valve opening
Excessive noise
Rated CV Vis-avis minimum controllable Cv
Back pressure for flashing
Warning & associated recommendation guide user to the most technically correct product configuration.
Alternative solutions
Choose the best fit for purpose valve from a set of valid configurations, against key performance parameters
Compare alternative options against parameters such as:


- Single service conditions

- Multiple service conditions

- Construction attributes

- Performance attributes-flow characteristics, travel %, rated CV, predicted noise,

- Price

Compare options


- Graphically, for flow curves plotted against service conditions, or,

- As configuration data

Select best-fit option against the most critical parameter/s
Other
Actuator sizing & selection
Calculations for thrust / torque taking into consideration Seat Load Force & unbalanced force for Balanced, Unbalanced or pilot trims, packing / friction load, seat leakage required
pilot trims, packing / friction load, seat leakage required
Actuator stroke requirement
One click auto-selection of actuator model, defaulting to the most economical model
Automatic selection of accessories based on stroke & travel time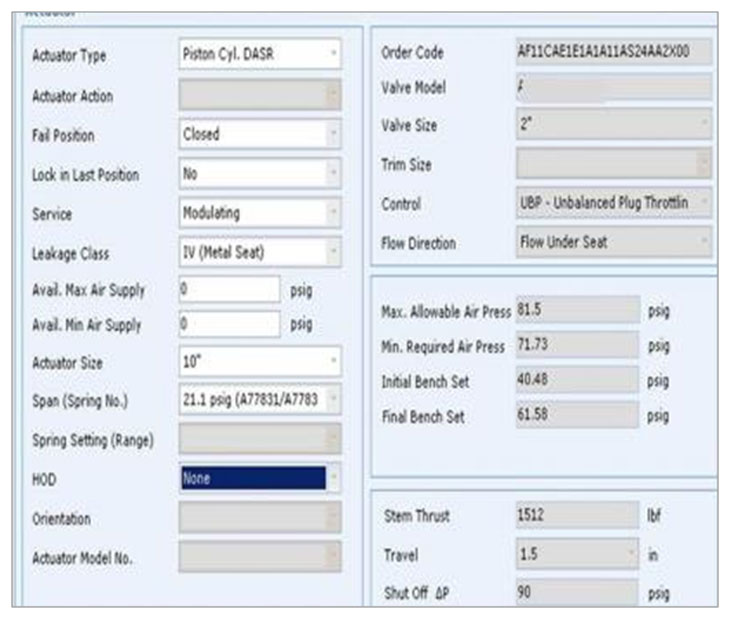 Desuperheaters – Sizing & Selection
Supporting desuperheater & control valve together
Generates spec sheet, analysis sheet, drawing, factory notes / QA plans & pricing
Selection of these accessories can be performed based on the configuration requirements & service conditions.
Positioners – Pneumatic, Electro-Pneumatic, HART, FF, PF, etc.
Solenoid valves
Limit switches
Lockup valves
Volume tank & boosters
Air filter regulator
Tubings & fittings
Pressure controllers
Orifice Plate / Restrictor Sizing
Restrictor sizing performed in conjunction with valve
Automatic selection of orifice plate
Automatic selection of the number of plates required
Noise calculation as a system i.e. Control valve + Orifice plate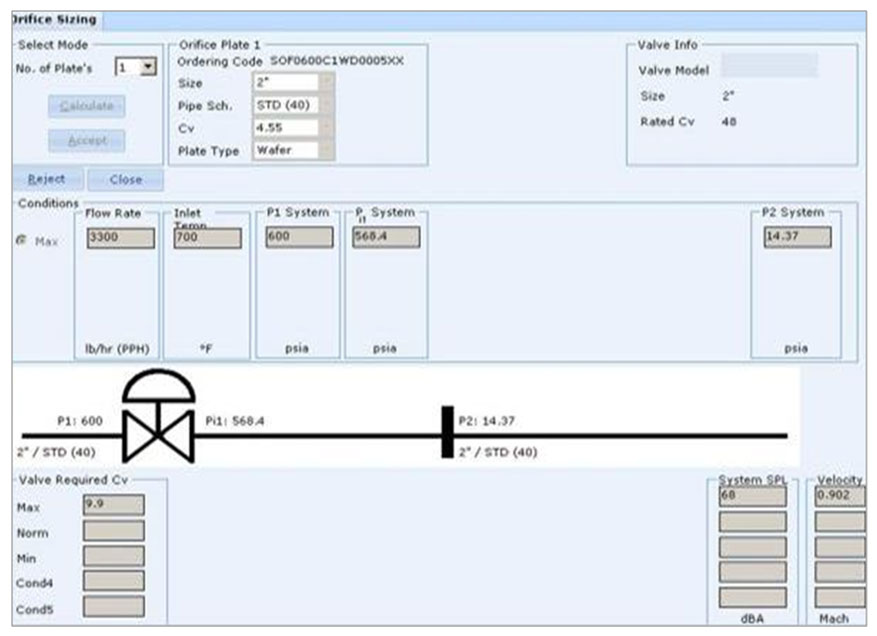 Regulator, Levels - Sizing & Selection
Level sizing & selection
Regulator sizing & selection